it's september!
and
today i am hereby instituting "makey thursdays" for a few reasons:
-i like to obsessively gather DIY projects from around the webs
-i forewent pre-school when i was little to stay home and do crafts and read books with my mom… so pretty much not a lot has changed in 20 years. just kidding, a lot has changed. but not really that.
-makey rhymes with nakey
[heehee]
you need: bottle of elmer's glue gel, fabric dye, rubber gloves, white cotton garment, water resistant board [like a big ole lid], bucket/bowl/tub to dye in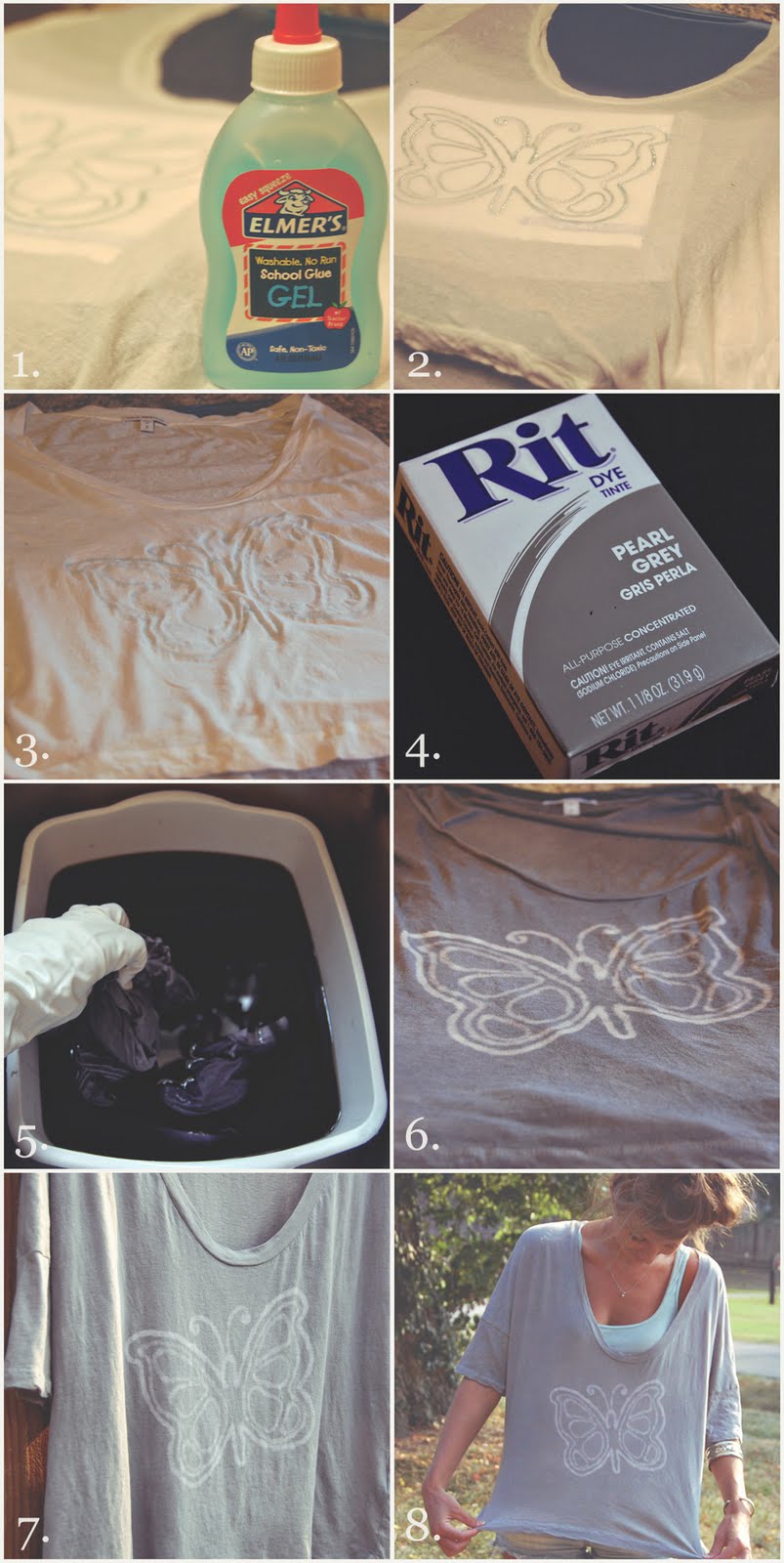 1. wet garment under faucet with cool water & slide board in between layers to separate

2. draw on design with gel glue [i googled & printed out this butterfly outline, put the page in a freezer bag, slipped it underneath the shirt & traced over it! way easy.]

3. let shirt & glue dry completely [left mine overnight]

4. prepare the dye according to directions in a bucket/bowl/tub in the sink

5. swirl garment around in the dye with your glove hands for a while

6. spread out & let dry

7. run it through the washing machine or hand wash to get excess dye & glue out

8. ta da! since i'm a butterfly charmer now i really

loooove

my butterfly shirt! plus it's soft. i made sure to buy a really soft, comfy shirt to do this on. yay.
you need: xl white cotton tee, fabric dye, rubber gloves, scissors, bucket/bowl/tub to dye in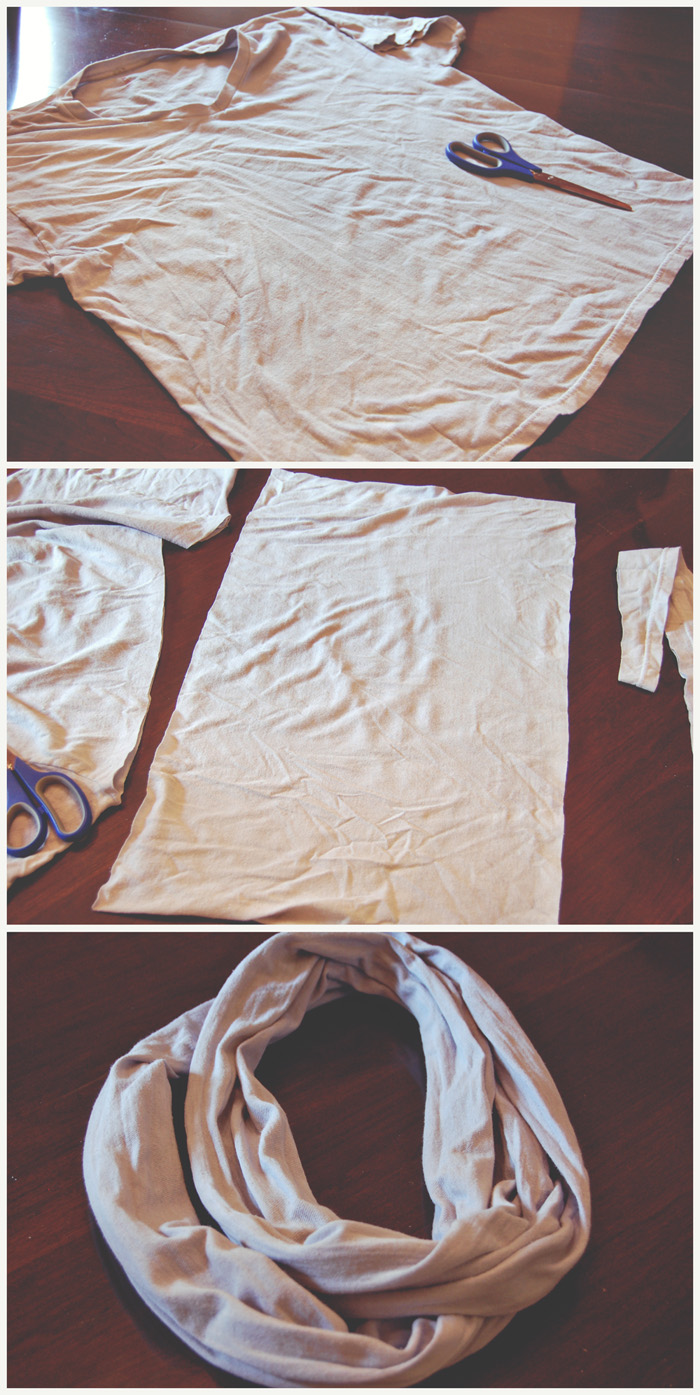 1. dye t-shirt
[the original tutorial made an ombre scarf by dipping bits at a time, but mine did not really ombre very well.]
2. lay out to dry completely, then machine or hand wash, dry
3. cut just above the hem of the shirt & just beneath armpits
[as straight as possible, of course]
4. stretch out material til it's as scarfy as it can be and voila! a new scarf for the season. steven didn't even recognize his old shirty when i walked in with my new scarf on. also, i wore my scarf to go see my mom at farmhome and i'm pretty sure all the animals there were like "oooh, where'd you get that scarf, girl?"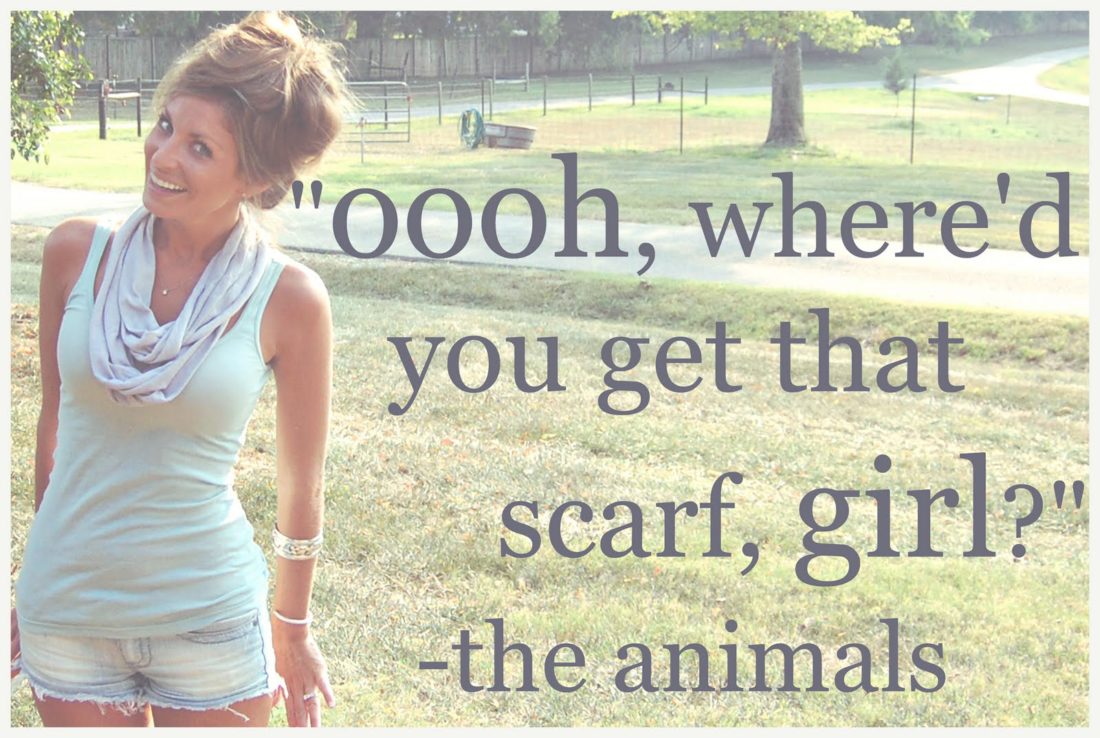 [ps. this is not my barbie pose. i have a barbie pose but this is not it. well… it's close.]
so maybe if you're really cool you could do a cute watermark pattern
on
the scarf. like triangles. triangles are in. or something with dots. or wavy lines. next time, next time!