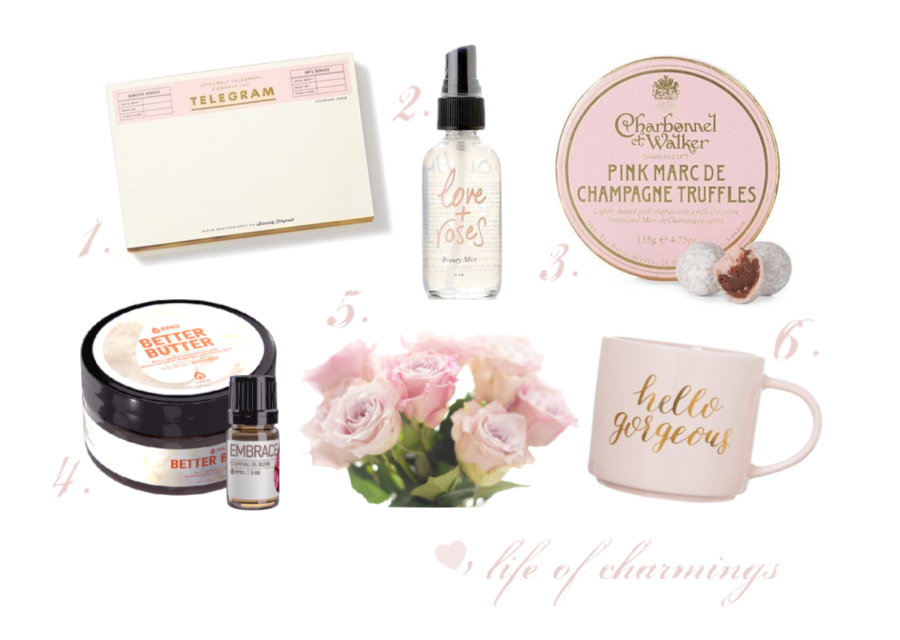 happy valentine's day, friends!!!!
i love valentine's! mostly for the pink and hearts. and the love, too. call me old fashioned, though, but i am not ever a fan of holidays – little or big- feeling like any sort of pressure at all in the gift department! it's all about the tiniest tokens and gestures to me. i like it simple!
and hey! here's a fun idea… why not treat your own self to a tiny something today if you feel like? perhaps you need a little extra cheer in your february life! [i know i do!] so, i don't think i see anything wrong with a little something special on a day like today.
here are some of my favorite simple happies! 🙂
kate spade telegram notepad: i have been obsessed with these adorable notepads since the first time i saw them. SO cute!!!
love + roses spray: this makes me so happy every time i use it. an uplifting spritz of roses in the cutest bottle ever… the best!! i love having it out on my counter. 🙂
charbonnel et walker truffles: i'm in love with these little boxes! i consider them decor, let's be honest. i keep mine where i can stash tiny things and feast my eyes upon them, because they're GORGEOUS! and the truffles are good, too. perfect splurge!
better butter: gosh, i love this new product from my fav, rocky mountain oils!! it's just the right combination of the very best things to rub on your skin and mix with your favorite essential oils. and if you order today, you can still snag their special embrace blend for valentine's!! [this was sent to me c/o RMO, but i've been using their products for years. the love is real!]
FLOWERS! flowers never fail!! and you know what i love? when you're out shopping for the usual, and then you decide to grab yourself a beautiful bouquet of your favorite flowers! [mine are pink roses!!!] soooo… do that today!
pretty mug: after i spent such a long time obsessing over these mugs, i picked the hello gorgeous mug for a pop of pretty in my day!! [luckily, i had a $5 target gift card to eliminate the guilt of my indulgence. haha!] aaand oh, it makes me so happy!