i've been trying to purify my daily life here and there for some time now by using more natural products on and in my body and getting rid of the icky chemicals as much as i can… but it's become so much more important to me now that what i do to my body affects more than just me! so, these are some of my favorite natural beauty products these days, inspired by my friend and mentor, the lovely mother nature…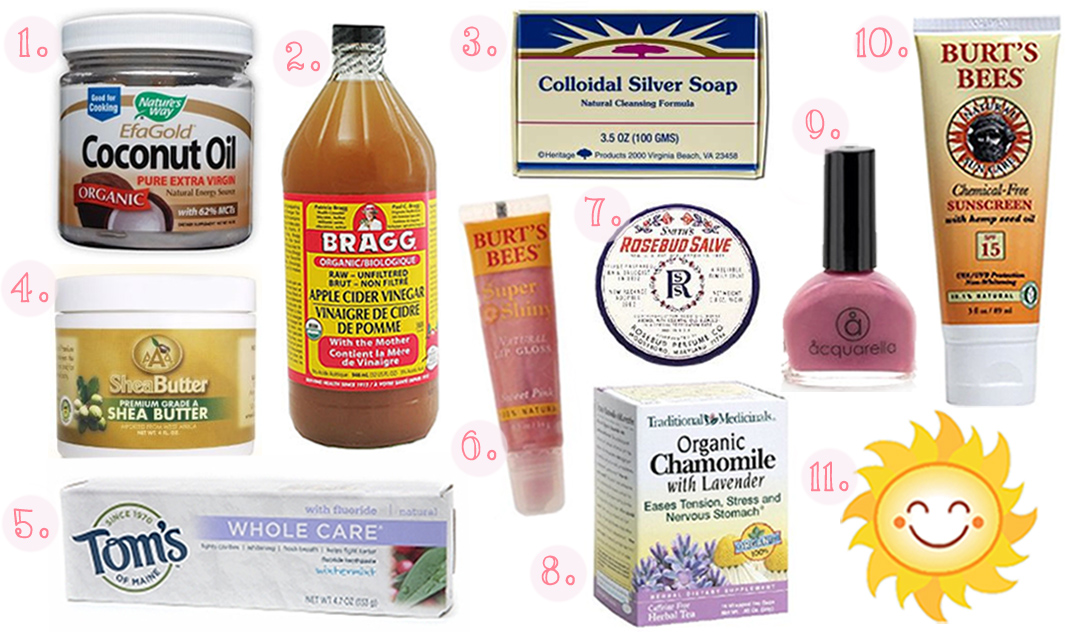 1.
unrefined coconut oil
– this stuff is tropical health heaven in. a. jar! some of its benefits are that it's anti-bacterial, anti-fungal, anti-viral, anti-inflammatory, metabolism boosting, immune system supporting, and good for your hair, skin, digestion, heart, thyroid, etc. i use coconut oil now as a moisturizer on my face at night
[i

love

the coconutty smell]
and have been putting a teaspoon of it in my coffee every day. it is very detoxifying, though, so you don't want to start taking too much of it internally right away or it can give you a little bit of an upset tummy! but let's just say miranda kerr has apparently been taking coconut oil daily since she was like 14 or something and her body seems to be doing
pretty
well. also, it's great to use in your cooking instead of olive oil because it won't burn as quickly, but for that i prefer the refined version
[it has fewer nutrients but whatev]
because the unrefined will give your food a bit of a coconut taste and the refined will not.
2. raw apple cider vinegar – i have been an avid acv user for a few years now and i really swear by it! i try to take one or two teaspoons of it daily and use a part acv part water mixture as a toner on my face at night. i know the smell and taste is too nasty for a lot of people, but it's so good for digestion, hair, skin, and basically everything that it's totally worth it to me… and you get used to it. i mean, human bodies just really love this stuff! [i did have to take a break from my acv habits for a while since it was, at one point, a little too much for the earlier pregnant senses to handle… but once i started back i could tell a difference in my skin almost immediately!] you don't want the cheap grocery store version, though. you want the good kind with "the mother" in it.
3. colloidal silver soap – i fell sooo in looove with this cleansing soap after i found it at whole body some time ago. colloidal silver is anti-bacterial magic and the rosemary in it smells amazing and balances your complexion… and it actually feels like it's getting my skin super clean and my makeup off, which is more than i can say for my old neutrogena cleanser. and the bar has lasted me months already and i'm not anywhere near running out yet. so, between this, the acv toner & the coconut oil, i am just kicking my unstable pregnancy hormone face right in the tush! and i mean that in a really good way.
4. pure shea butter – i know everyone loves the l'occitane shea butter… but honestly, it's $40 and i just felt like i could do better than that. this is pure shea for $10! i got it to rub on my belly every day and it is oooh so soothing and moisturizing. it does have kind of a subtle but strange smell to it just as it is, which is not a big deal, but i also made a little batch of shea with coconut oil, vitamin e oil, and lavender essential oil and i must say, it's pretty fabulous!
5. tom's of maine toothpaste – now that i've been using this toothpaste, i feel like i'm brushing with weird tasting chemicals when i use regular toothpaste. i never worried too much about my toothpaste choices in the past, but then one day i just figured since it's going in your mouth, it probably does matter! [update: i aaactually prefer the kind without fluoride! word on the street is that we have plenty of it in our water system, anyway.]
6. burt's bees super shiney lip gloss – same thought as the toothpaste, i'm a major lip gloss addict so i made a vow not too long ago to get rid of all my lipsticks and glosses that had parabens and other nasties in them since they go directly on your mouth all the time. [i know that might be a devastating thought to all the many girls who are in love with their favorite lipsticks.] i love the burt's bees super shiny lip gloss because it tastes and smells so yum. i also love the bare minerals lip gloss, which i have in 7 layer cake, aaaand elf has some lovely mineral lip colors, as well! i have this lip tint.
7. rosebud salve – jumped on this bandwagon. love it. i love that it's such a tried and true old fashioned recipe of cottonseed oil, aromol, essential oils and petrolatum. makes me happy in its cute little tin!
8. chamomile & lavender tea – it's been more of a challenge for me to successfully unwind these days when i get uptight… you know, now that a couple glasses of wine and a hot bath are out of the question for a while. but this is my favorite tea to relax with. it smells so pretty and tastes like a hug. an herbal hug, that's what this tea is.
9. acquarella water based nail polish – so cool, this nail polish has zero smell to it! i did my nails in the car a few weeks ago and nobody even knew… not until i was like "I JUST DID MY NAILS AND YOU DIDN'T KNOW DID YOU." it's water based and non-toxic and i'm not even sure what exactly it's made of, but it apparently has way fewer chemicals making it up than regular polish [even all the ones that already don't have DBP, formaldehyde & toluene]. and since i always, always, always keep color on my toenails [i can hardly stand to even glance at my feet when my toes are unpainted. my mother thinks i'm crazy but it's just one of those things.] i wanted to switch to the least potentially harmful thing i could find while i'm pregnant! so, i have this in brave and prissy [which is more reddish pink than its picture shows]. it starts to chip off of my fingernails after a day but somehow stays on my toes for forever. and it dries fast and stays pretty shiny, too!
10. burt's bees chemical free sunscreen – nobody wants skin cancer, so i know slathering the sunscreen on is the go-to prevention plan… but regular sunscreens have a ridiculous amount of chemicals in them… and i just can't see how it's a good idea to rub chemicals on yourself and then bake the chemicals on to your skin. burt makes a chem free spf 15 and 30 that's easy to find at the store!
11. sunshine – the sun is the very best way to get vitamin d and a lot of bad stuff these days is being linked to vitamin d deficiencies. apparently, most americans are getting only half of the d that they need! that is so sad, isn't it! they say it's good to get some completely unprotected sun exposure, even just a little bit a day. and you know, i'm thinking that if evil dictators got a little more sun time, they might not feel so evil anymore.
…now, if only i could kick my pregnancy-induced sweet tooth, then i'd really feel super!
but
maybe
that can wait until after we go to italy and eat our share of gelato 😉
[see past obsessions]
*disclaimer: these are not all 100% perfectly natural and organic products. these are just some of my best attempts at reducing the amount of artificial stuff that goes on and in my body on a day to day basis. 🙂