one of maddalena's top interests as of late is wiggling that cute body of hers as fast as she can over to the fluffs' food and water bowls to get her fingers into all sorts of crazy fun and good times. normally, i just pick up the bowls if she's crawlin' around the floor, but at one point yesterday, i didn't get to them in time. and you know? it was a pick-your-battles kinda day, and heck. i just let it happen. i mean, who am i to stand in the way of a good dog food scattering and gross old water splashing, anyway!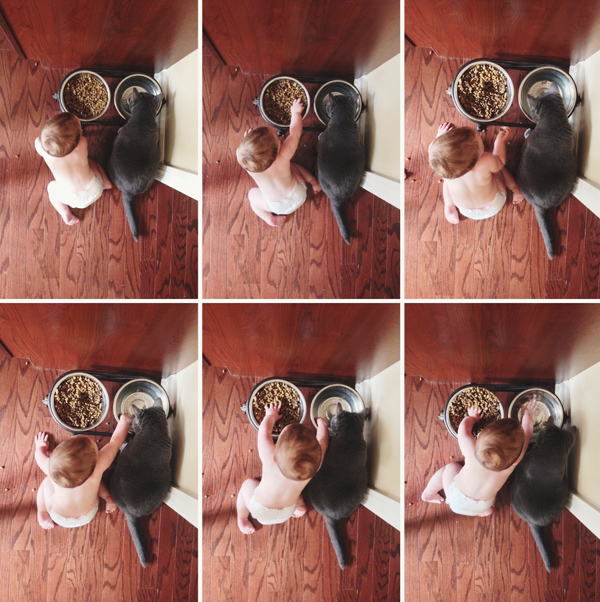 it was pretty entertaining. definitely to m, pretty much to me, and not so much sophie because she was really just thirsty.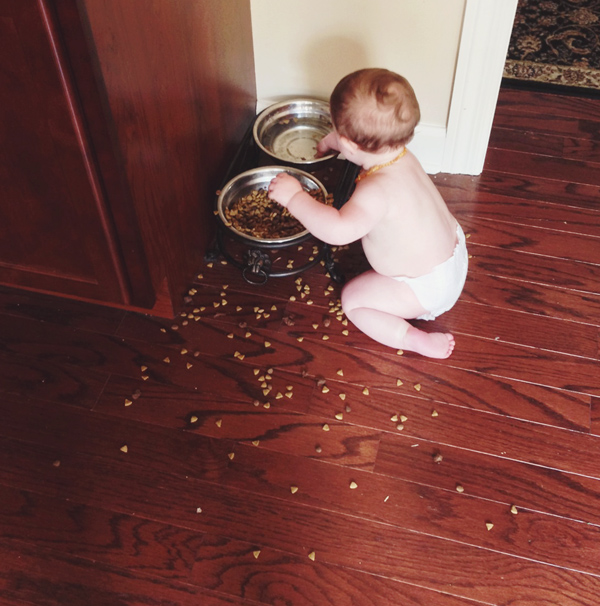 oh, this baby of mine 😉 she keeps a smile on my face! and like, have i mentioned that i love her? i don't know, but i might have said that before.
and just to be clear, we washed our hands after this episode, although, i'm not sure how much it matters with her little palms are all over everything these days!
in other news, i got somewhere around 3 inches chopped off of my hair last night and i am pretty sure that you can't even tell! it had been, oh, almost a year since my last hair cut. i KNOW. i like to push the limits of how unruly my hair can get before i put my time & dollas into it. so, between my crazy hair and the spiders i keep seeing/killing/having steven kill in this house, i am basically destined to be a jungle woman. all i need now is a jungle!
also, i'm looking down to see that my child is currently dismantling my printer. ha! happy weekend! yay!