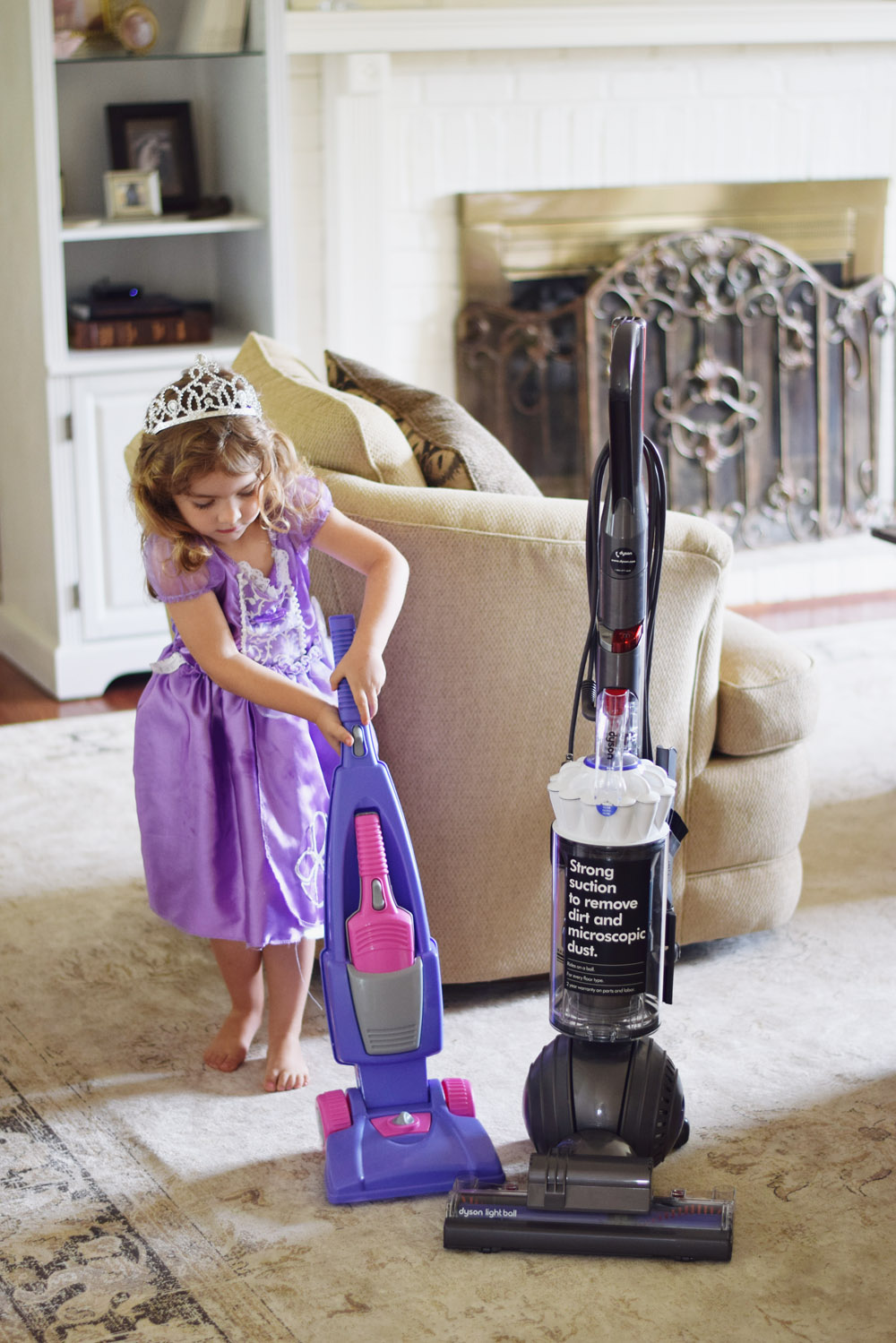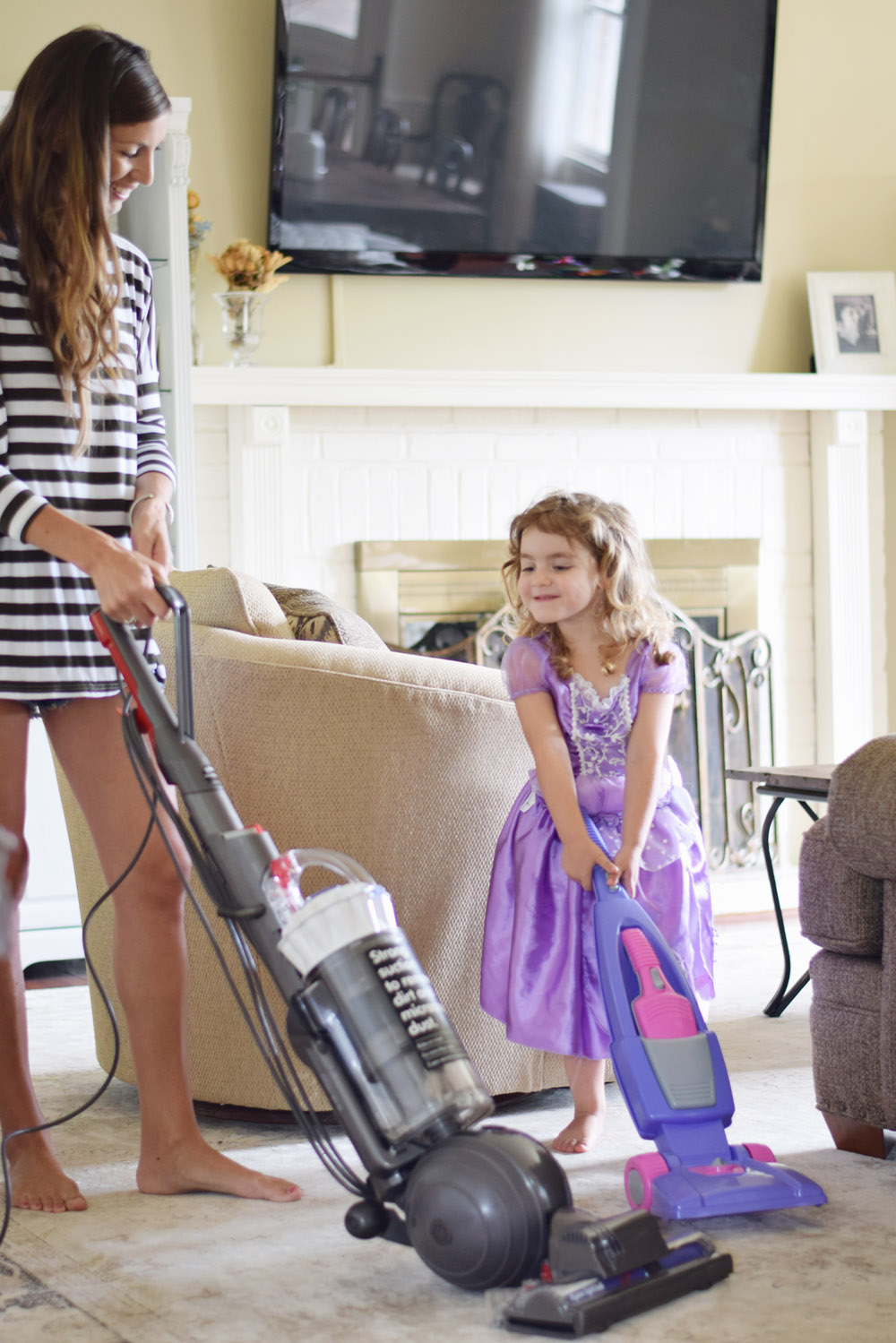 so, lest you think a passionate discussion on vacuums is a toootal mom discush… let me be clear on one little thing: brittany. loves. to vacuum. pre-baby brittany loved to vacuum, so it's true and it always has been. well, it wasn't true when i had my mom to do it for me, but it's been true ever since.
it makes me feel like i can accomplish things! it makes me feel like i have a fresh slate! and when you see in the clear container part all that you just rid your life of? that's the best. the whole thing is cathartic and it makes me happy. in fact, the very last thing i did before we left for the hospital the night before maddalena was born was vacuum. and that was a wise decision!
…because now, let me tell the tale of the princess that entered my world almost 4 years ago now, and made everything sparkly and beautiful and happy and perfect… except that i wasn't allowed to vacuum. like… really. i wasn't. it was pure torture to her little ears, and she has only just recently come to terms with vacuums. haha. truly, though, it was so so sad and i could not bear the tears that were shed. so, my floors were forced to reckon with whatever a broom and a dustbuster could achieve… and that was pretty okay with me, since all i wanted to do was snuggle her, anyway! the floors would wait. and they did. 🙂
fast forward to a new house, a new baby and 3 more years! until now, i'd really never lived in a house that was lived in by somebody else just days before it was ours. this was new territory for me, making someone else's left behinds into our bright and shiny future. for the most part it's been fun! i love nesting so, so much. but you really can't do it without a solid vacuum. in my arsenal i had: a 5 year old, loud as heck dirt devil i paid uhhh, maybe $50 for? a shop-vac that is used for garagey man stuff. a dustbuster, sure, makes little cleanups easy. and a swiffer vac that i rarely use. it's a glorified dustbuster.
it was tiiiiiime! time for some sparkly, new, functionality. enter the question: dyson or shark?!?!?! i had literally been asking people for their opinions and personal vacuum history for months. i'd always heard that a dyson was THE vacuum to have… like, if you have a dyson, you've totally made it in the world kinda thing. and then, more recently i'd heard that shark had moved up in the ranks as a seriously strong competitor!
now, truthfully, the very day i decided i needed a new vacuum and needed it fast, i browsed amazon prime now on my phone while rocking my little mister to sleep for his nap, scanned reviews, and ended up grabbing a [gold!]
shark navigator deluxe
, which… i have to be honest… i have so far
loved.
although, after my history with the silly dirt devil, anything is a step up!
and truuuue story: it was just a week later that dyson offered me a chance to review their exclusive to walmart dyson light ball! [walmart! another good place to scan reviews!! don't you love reviews?!] and at first i was like what! i can't possibly! i've already bonded with my beloved gold shark!!! but i quickly snapped out of that nonsense, because, duh! it's a dyson! the vacuum dreams are made of!! "no, i would not like to test out the dyson and then blog about vacuuming." would have been a bold. faced. lie! can you imagine?
plus, i could not possibly resist my very own opportunity to finally answer the question…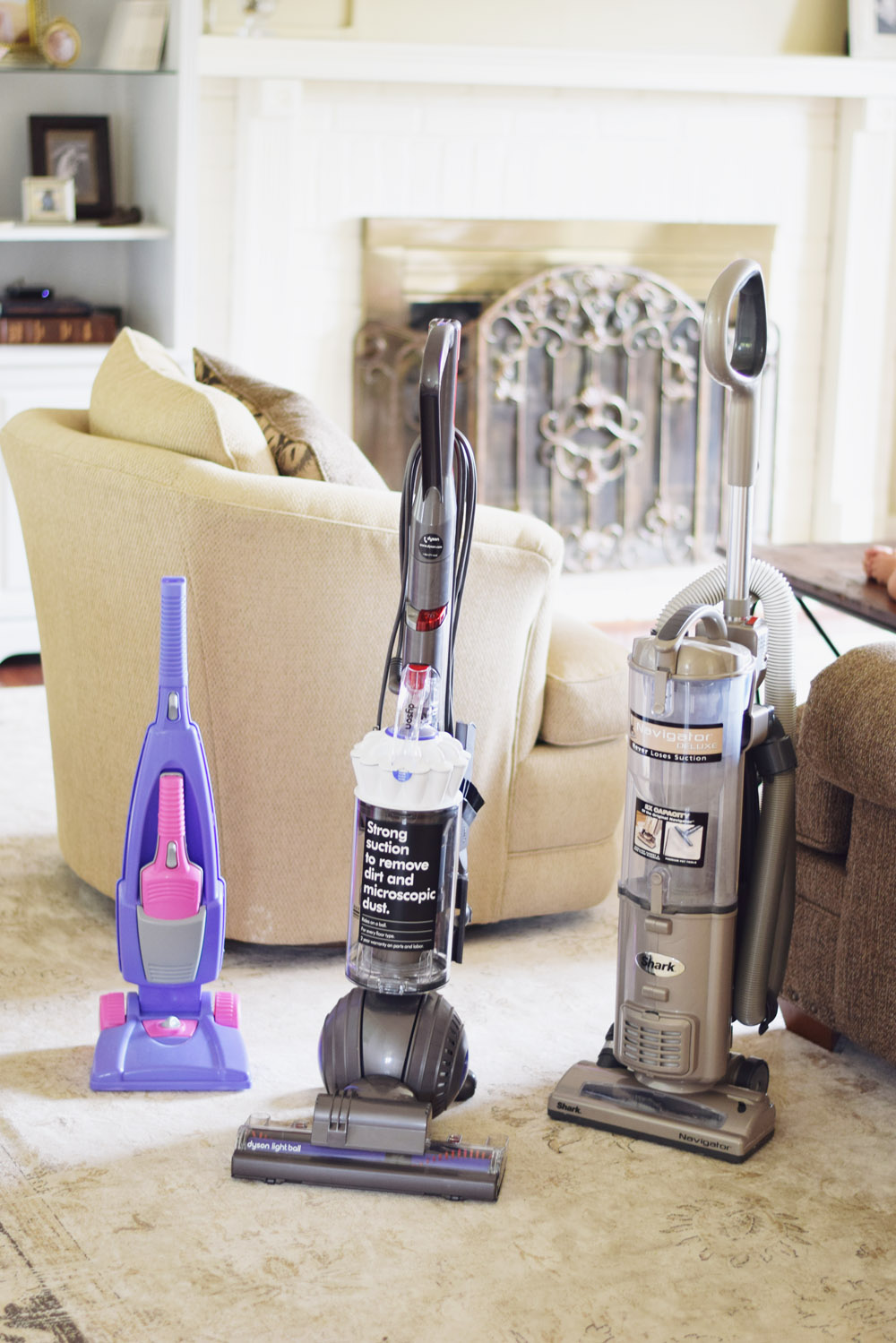 DYSON OR SHARK?!
[…and of course we all want a cute little purple princess vacuum! :)]
here are my general findings!!
-super smooth to push… i love the way it naturally swivels to get every cranny!
-has a convenient button to turn beater bar on and off
-has tons of suction… possibly a little too much for my lightweight rugs even without the beater bar, but seems to be perfect on other rugs
-the hose simply pulls out of the handle and reaches floor to ceiling! i love this. although, the cord can't be wrapped around the cord holders and in the way of this process. and if you don't want to use the long wand part, you have an extra piece to set aside, but that's okay. also, the way the hose pulls in and out is really cool.
-the hose attachments are great, i looove that the the brushy-style attachment is on the crevice tool making it one versatile piece!
-the attachments stick right on the side when not in use
-the container empties out the bottom super easily
-bagless with washable HEPA filters
-not too heavy, around 15 lbs… although, it sometimes wants to tip backwards while standing
-not too loud! no crying babies 🙂
-low profile for getting underneath stuff
-slightly wider footprint
-silver
-2 year warranty
the shark navigator deluxe
-$121 on amazon right now
-smooth to push and has a self-propelled feature when the beater bar is on that helps me across my lightweight rugs
-has a convenient switch to turn beater bar on and off
-the hose pulls really easily right out of its slot, but it's not as versatile and can't reach as high
-didn't come with a long crevice tool!? pretty sure it was supposed to.
-the container empties easily in two spots
-bagless, washable filters, but i don't think they are HEPA
-not too heavy, around 15 lbs… although, it sometimes wants to tip backwards while standing
-not too loud! no crying babies 🙂
-low profile for getting underneath stuff
-slightly more narrow footprint
-color choices
-5 year warranty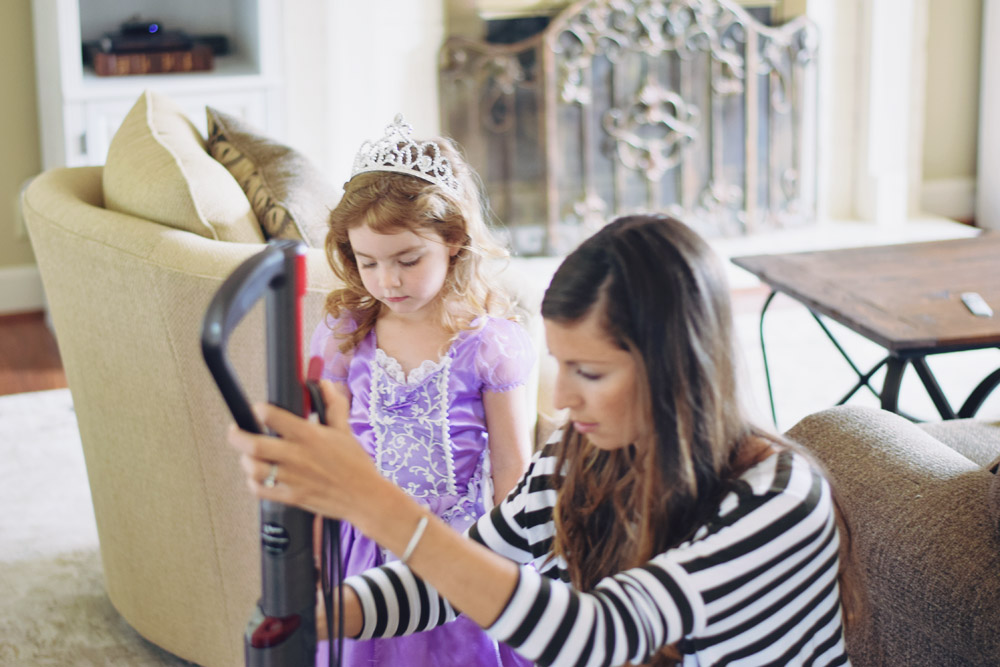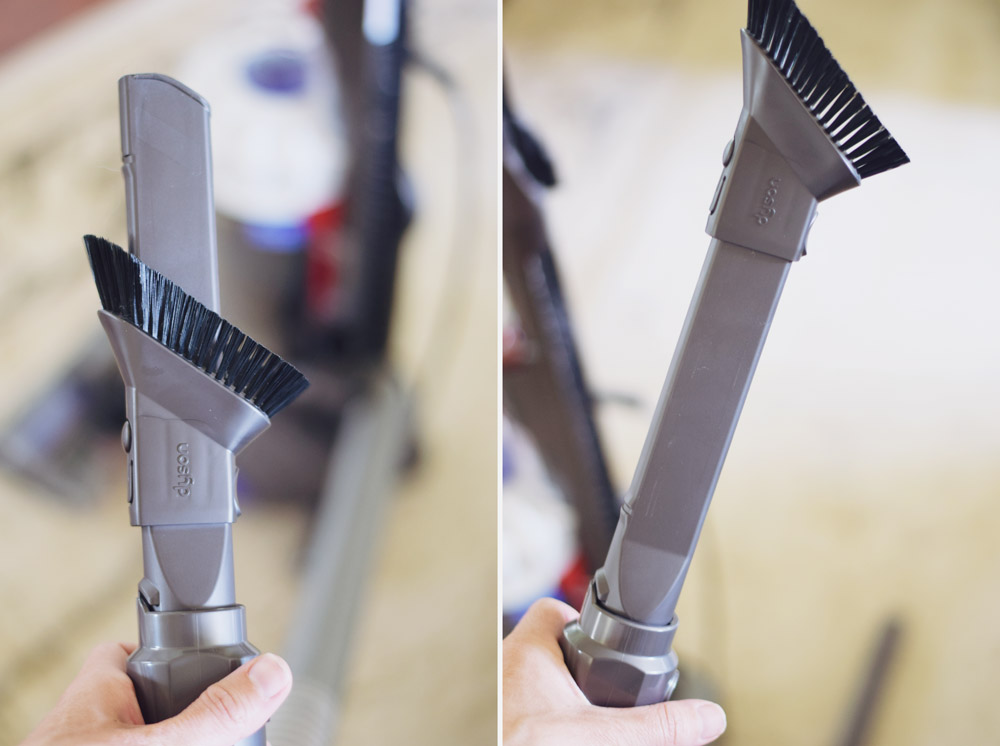 [dyson totally wins in the attachment department]
so, what's the bottom line?! well, i think i'm gonna go with the ole
you get what you pay for
!
the dyson light ball is definitely more expensive. it also has a little more going on than the shark navigator deluxe. not TONS more. performance wise, the actual floor cleaning seems pretty on-par with one another! [which is a good thing! i've been thrilled with both!!] plus, part of the price for the light ball has got to be that you're getting the dyson name. as we've established… vacuum dreams come true!
now, to be picky, i still kinda prefer the extra-easy-ease of use of the hose on the shark simply because i can do it completely one-handed while holding a baby… but in that same regard, it is not as versatile. and mine is apparently missing a tool. hm! i also like the self-propelled feature on the shark because i have one area rug with a pad under it that seems to makes every darn vacuum stick right in one place…
but other than that? the dyson light ball is a fantastic vacuum that lives up to its name! i mean, my 2008 newlywed self would be cuddling it to sleep at night. oh, young newlywed B. here's the deal, just blog for 8 years and then you can have a dyson. okay, cool. 🙂
so… are you like me? do you love vacuuming? do you have a vacuum that you love? have you ever used a dyson or a shark!??! i need to know things!!
thank you, dyson, for making a vacuum lover's dreams come true and sending me the light ball to test out! :*