so, there are obviously a jillion things you can do to decorate a porcelain mug, but i happen to have an affinity for initials and monograms
[i know, monograms, southern girl, i am]
and wanted to do some cute mugs. you can never have too many mugs!
'specially in our house. so i monogrammed!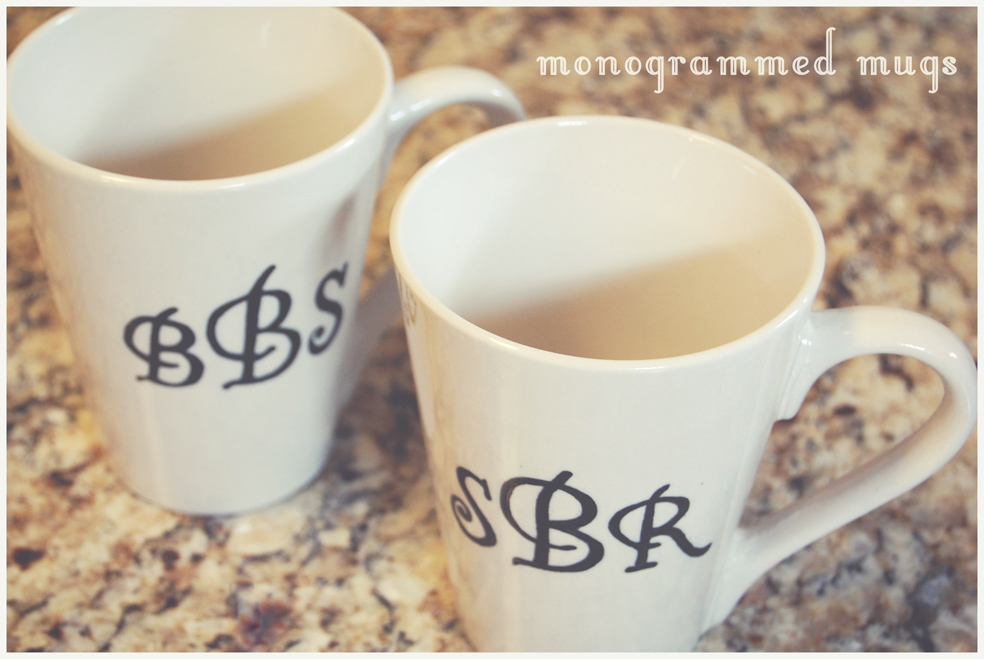 you need: porcelain mug, printer, paper, pencil [not mechanical], teensy paintbrush
& gloss enamel paint OR a porcelain pen. lots of people use those. i don't have one.
—

1. print out your monogram in a font you like.
i used little lord fontleroy,
which was good for tracing, and then filled in the spaces when i painted it on.
2. make graphite transfer paper by rubbing lots of pencil on one side of a piece of paper
[just enough paper to trace your monogram] until the paper is pretty solidly covered in graphite.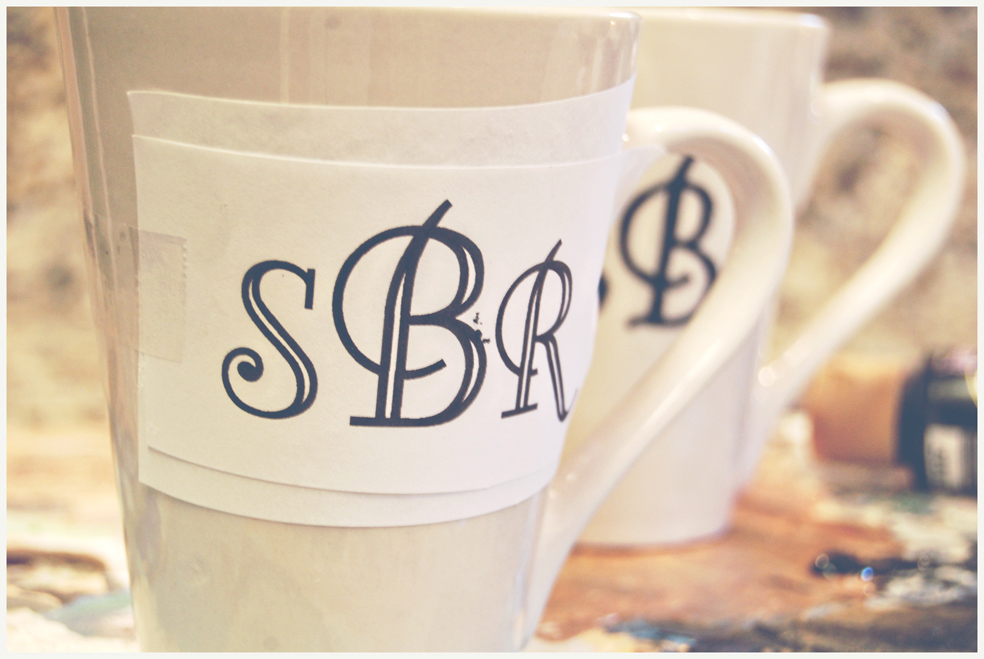 3. tape monogram & transfer paper on mug with monogram on top and graphite side
facing mug and trace over monogram with a pen using lots of pressure. my pencil
wasn't great for making transfer paper so mine came out really faint. but good enough!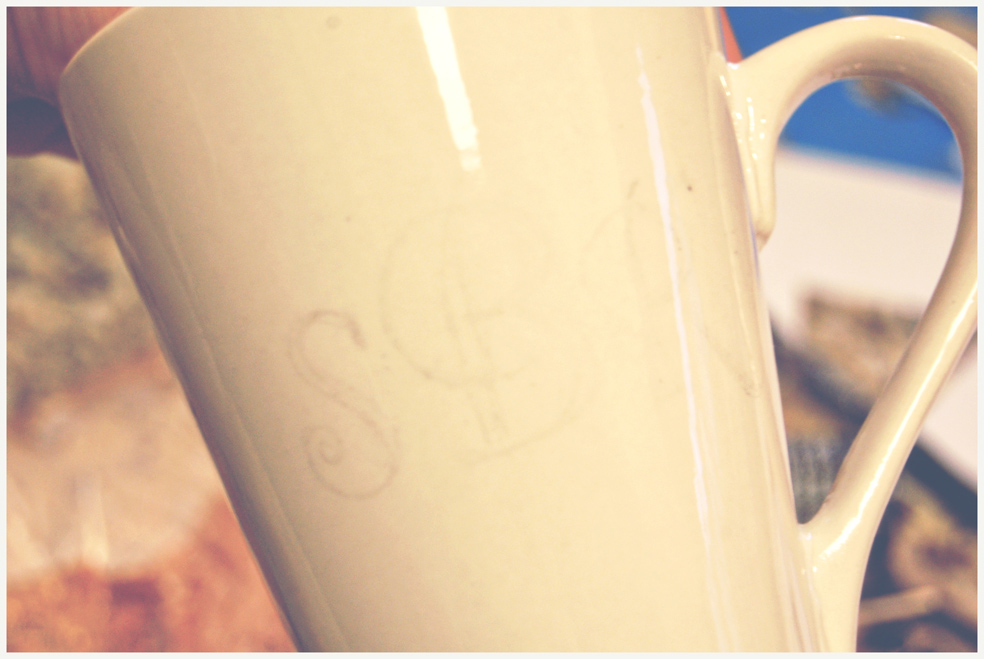 4. paint on your little monogram with your teensy paintbrush! or draw it with your
porcelain pen. also, toothpicks come in really, really, really handy here for touch
ups if you're using paint. but don't try to make it too perfect! i think it's cute when
it's all handwritingy. it gives me more of an old-fashiony vibe, which is cozy 🙂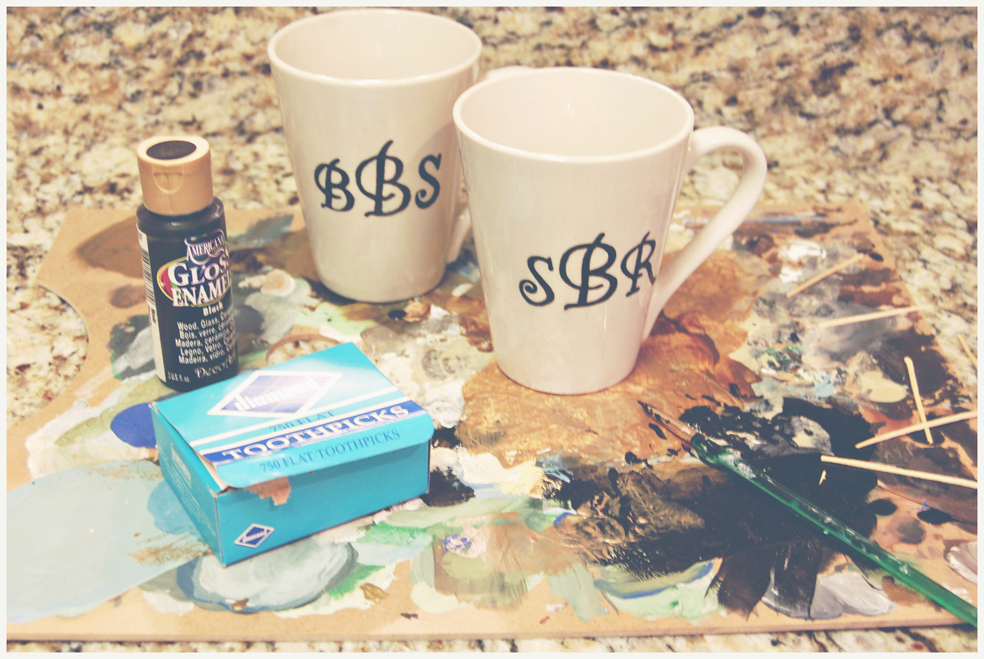 5. let the paint dry for 48 hours and then bake in the oven according
to the directions on your paint. mine says to place in a cool oven, heat
to 325, and bake for 30 minutes, then let cool in oven. and ta-da!
[they hadn't actually been baked yet for the next photo. once baked the paint gets glossier. pretty!]
[these might be a good christmas idea! sorry, is it still too soon to say christmas? i can't help it.]
xoxo, makey time over.