there is very little that i love more than making a list of my current material obsessions,
so that is precisely what i'm going to riiiiight now…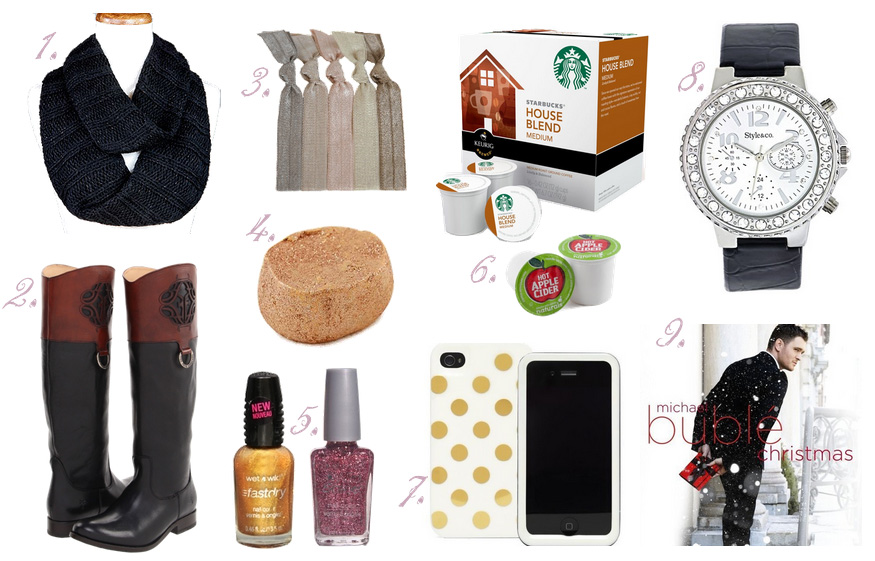 1.
chunky knit bronze lurex infinity scarf
– i have this scarf from world market in gray and i love it. so. much. it was pretty much an early birthday prez from myself to myself and i'd wear it every single day if that wasn't weird. it has these little bronze flecks in it that super spruce it up and take you straight to happy land! yep. and who doesn't like happy land?
2. frye two-tone melissa boots – these are my dream boots. when my mom and i spotted them in the neiman marcus holiday catalog it was love at first sight and i've never been the same. and then, yaaaay, they were a b-day gift from my parents and i never want to take them off! thanks, mom and dad. i promise they're worth every one of your pennies. and i've literally been sleeping with them by my bed so i can wake up to the smell of leather. [that's a horse girl for ya.]
3. emi-jay hair ties – this is what all the cool kids are doing! overpriced pieces of pretty elastic and they are glorious.
4. lush glittery bubble bar – i bought one of these from the lush store on our trip to philadelphia earlier this year… and i just recently used it! it's glittery gorgeous, which is mostly why i bought it, but the bath experience was a whole different kind of amazing. bubbles to the max, the scent of heaven, and soothing soft skin stuff. i don't even know what it was made of. magic, i think! i can't say, though, that mine was citrus scented and this one appears to be. whatev. still amazing, i'm sure.
5. wet n wild the gold & the beautiful and sparked – most def my signature combo this year. i layer the gold & then the pink and it becomes kind of a warm pinky coppery sparkle extreme that i get distracted by every time i look down. also, it motivates me to keep my engagement/wedding rings clean because there's a mega sparkle competition on my hands! got em both at walgreens.
6. starbucks & apple cider k-cups for keurig – current favsies for our beloved keurig. i was reeeeally excited when i picked up the starbucks k-cups, which are delish, and the apple cider is just the best. plus, you can drop in a little rum and a cinnamon stick and you've got yourself a festive cocktail 😉
7. kate spade le pavillion iphone case – i have been eyeing this beauty queen of a case for 100 years and i finally ordered it! but then, huge huge disappointment, it didn't fit my phone. i think because i had the screen on my phone replaced earlier this year and it might be the smidgiest bit thicker than normal? it fit steven's iphone, just not mine. ugh. i don't know but this was the most disappointed i've been in a while. i know, i have a pretty rough life. but i'm still obsessed with this case.
8. black croc strap style&co watch – a b-day gift from my boo! and i love it! it goes with like 99% of my outfits because it's totally perfect. i never knew how much i needed this watch. thanks, babe. and this way i can try to tune up my clock reading skills.
9. michael buble christmas – heaven to my earballs!! heaven. buble, sing me your magic. take me away. hallelujah. merry christmas.