father's day is coming up!! yaaay dads!! now, we aren't necessarily always the hugest of gift buyers for the smaller holidays… a token of love is always nice, no matter the cost! and good, old fashioned appreciation is what it's aaall about, right? sometimes you find that in a store… sometimes not!
either way, i personally love hearing what sorts of things that other husbands and fathers and brothers are enjoying to get ideas for mine! so, here are a few father's day ideas based on the daddy in our household…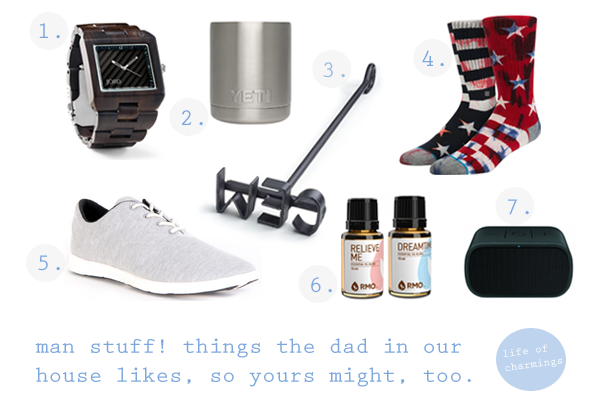 1. JORD wooden watch
– we gave
steven
his watch for easter earlier this year, and he has loved it and worn it so much!! which makes me just sooo happy! it is super lightweight and looks really, really handsome on him. like… really. i love it even more than i realized i would!! his is from
the delmar drift collection
, and you can actually still get
$35 off of a delmar drift watch
for your mr. special someone if you enter the code
DRIFTcharming35
at checkout!!
2. yeti lowball
– a couple of yetis finally made their way into our abode not too long ago, and oooh man… apparently, they keep your hots hot and your colds cold and it's just a nice, manly way to drink things! i mean, i don't know. men just love yetis.
3. grill branding iron
– okay,
i
love this. and maybe my husband has yet to use the one i gave him for christmas, but… i'm pretty sure that's because there was winter and then i put it on a high shelf and then he forgot. anyway, it's just masculine to have a way to brand your own steaks and stuff, right! there is really great potential here!! also, this one's currently on sale. 🙂
4.
stance socks
– so, there was a point in time where several amazon deliveries in a row… were more of these socks. he works out in them, and they do look really cool, i have to say!! i love the patterns they come in. lots of patriotism going on. thumbs up.
5. str/ke mvmnt shoes
– i love the look of these! steven wears his aaaaaall the time, and i love that they don't
look
obnoxiously athletic-y. yet, he is still completely athletic-y in them.
6. essential oils
– there are so many out there for so many purposes, you can never go wrong giving someone you love a bottle or two!
relieve me
to reduce inflammation and soothe anything sore, &
dreamtime
to relax into the perfect slumber are two of steven's very favorites!
7.
mini-boom bluetooth speaker
– we have had ours for years now, and it's just perfect. steven has used it a ton… outside while he grills, in the garage for home workouts, and obviously in the kitchen for pullin' out some awesome dance moves. it puts out great sound for being completely unobtrusive in size! it usually hides on top of our fridge and you'd never know it was there.