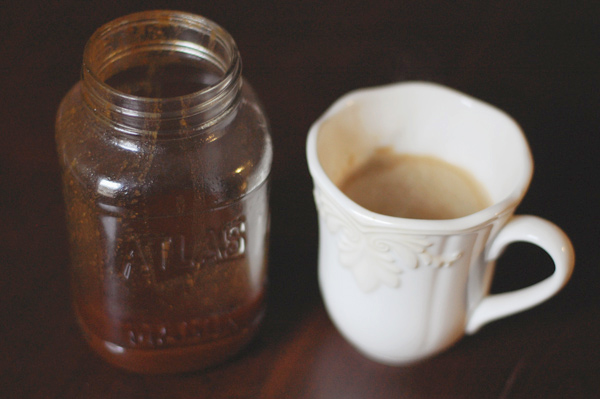 so here we are, smack in the middle of the halloweek! i mean, can you eeeven believe it?! i've been trying to get into the season just a smidgey, and something really happy that i've done in the last few weeks has been to mix myself up a little batch of pumpkin spice syrup for my coffee!
this is prooobably one of the best decisions i've ever made… because as much as i love the ole starbucks PSL, the more i drink it, the more i just kind of don't always need that overly-sweet fakey syrup taste… and even when i ask for only 1 or 2 pumps of the syrup, it's kinda not cheap to drop your dough on a mildly flavored coffee just to get that warm seasony feeling! i mean. i still do it every now and then, but how nice is it to have your fall seasony flavor in your own fridge?! [and i know you can get flavored creamers, but ehh, i'm going for as few chemicals as possible here!]
so anyway. i've tried some pumpkin spice recipes in the past, but this time i really, really loved how it turned out! i must take very little credit, though, because what i did was based on the incredible talents of the ladies behind three different recipes i came across [this recipe and this recipe and this recipe!]. i just did what was easy for me, and what i ended up with was purely delightful!! so now, i will share!
ingredients
1 cup water

2 tbsp pumpkin puree

1 tsp pumpkin spice

1 tsp additional cinnamon

sweeten to taste with brown sugar [i used coconut sugar!] 
directions
just heat it all up in a pot, stirring here and there until it's all melted and syrupy! then pour it through a strainer and store it in your fridge. and more importantly, pour it in your coffee and bask in the season!! 
this made about 8 ounces of syrup for me, and i went through this amount in less than a week, so i really probably should've made double the amount. guess i'll go make some more, huh!
happy coffee-ing! 🙂