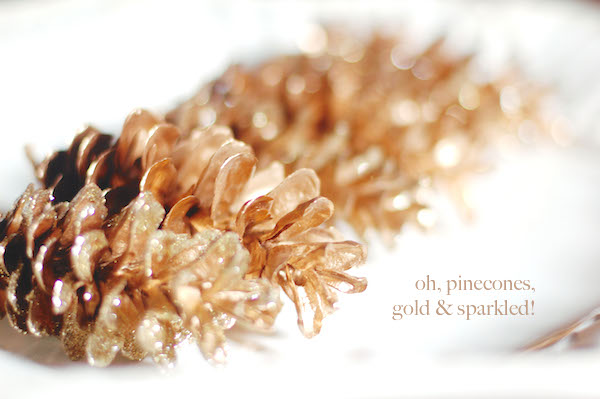 not too long ago, little miss maddalena and i were out walking around the farm, and we picked up a bunch of pinecones, deciding that they would be perfect for a festive fall craft!! but… downside, they were sappy, and my fingers had some serious stick covering them by the time we got them to the house. fortunately, though, there's a fix for that!! yaaaay! and so, we went on a-prettying our pinecones, and really, i majorly love them.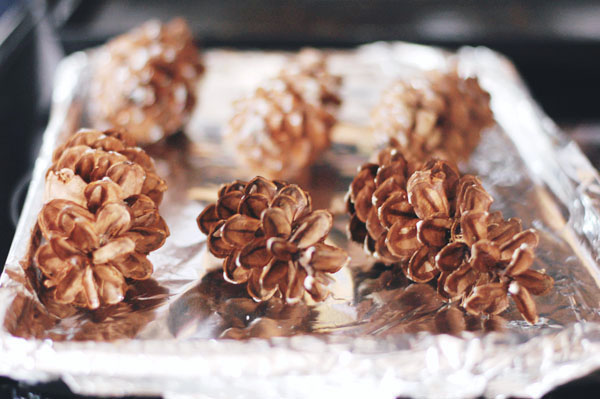 1. bake sappy pinecones at 200° for 20-30 minutes. the sap drips off and whatever is left on the pinecone turns hard and glossy!! they're so pretty before doing a single thing else to them. plus, this takes care of any bugs and makes the inside of the oven smell like a heavenly forest.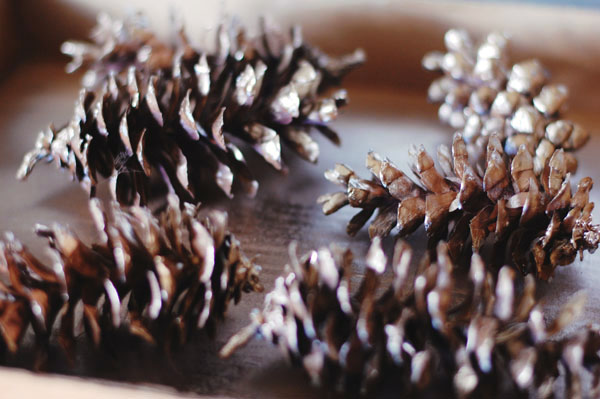 2. spray pinecones with spray paint [gold in my case], doing one side first, hitting both angles of the petal thingies, letting that side dry, then flipping and doing the other. repeat for a second coat. let dry.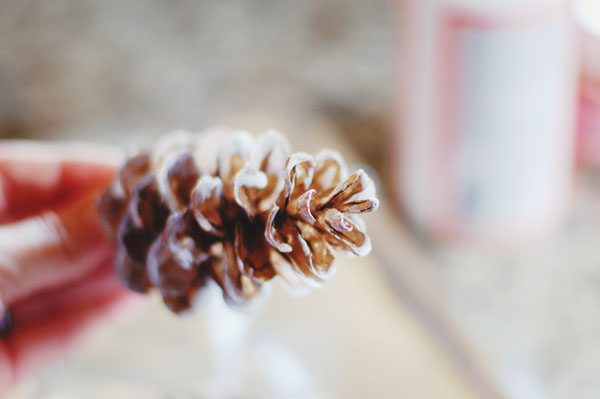 3. dab mod-podge [or whatever glue you have, really!] on the edges of the pinecone…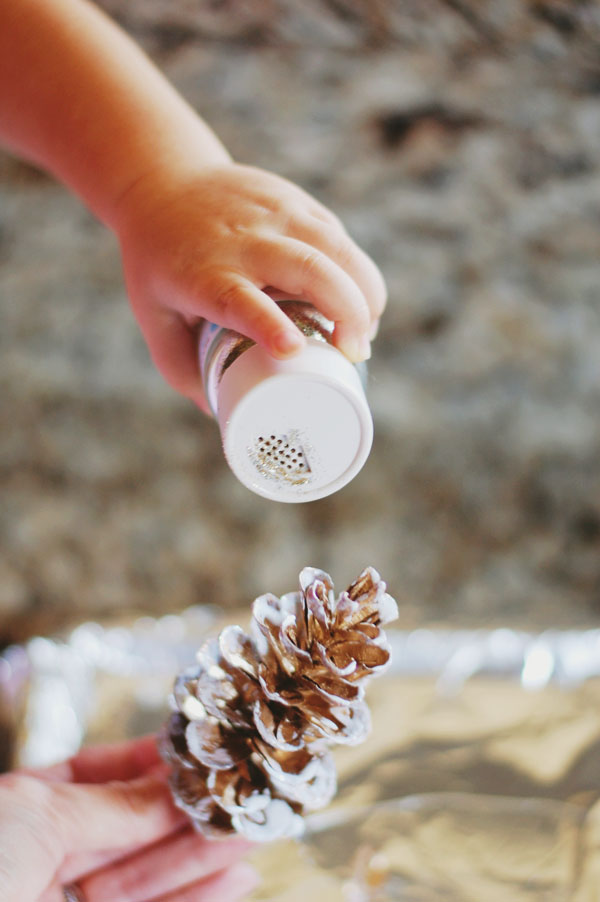 4. …and sparkle, sparkle awaaaaay!! obviously, my choice of glitter is martha stewart's fine gold glitter. you knoooow how i feel about martha and her products.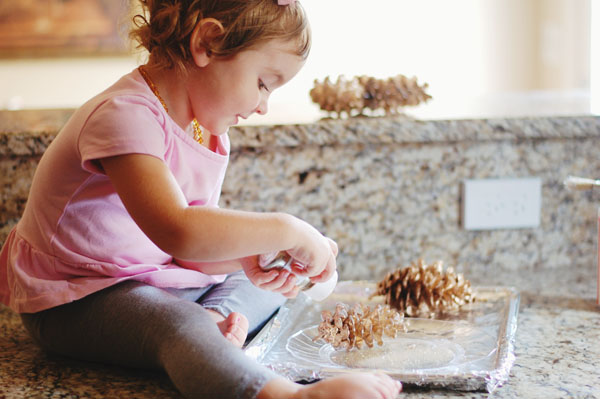 5. of course, the natural next step is, "take picture of me while i sparklin' dis pinecome!!" that's a girl after my own heart, right there. 😉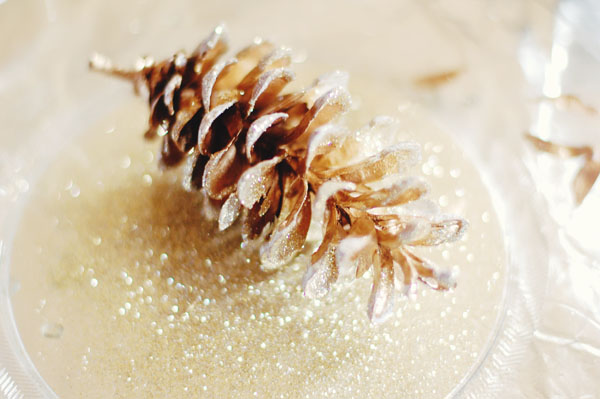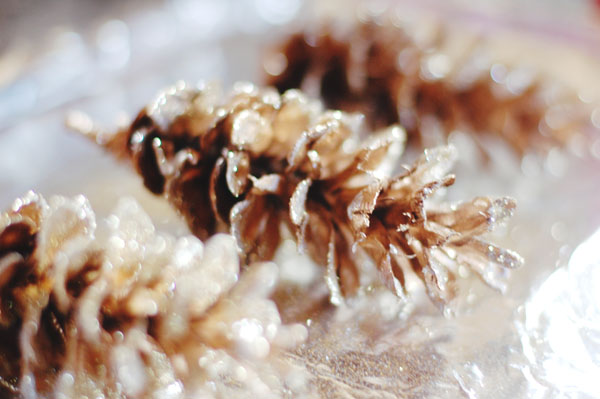 6. let those beauty sparkles dry. gosh, i could gold-glitter everything. my love is borderline obnoxious. but actually, i only sparkled half of my pinecones, because i wanted a combo!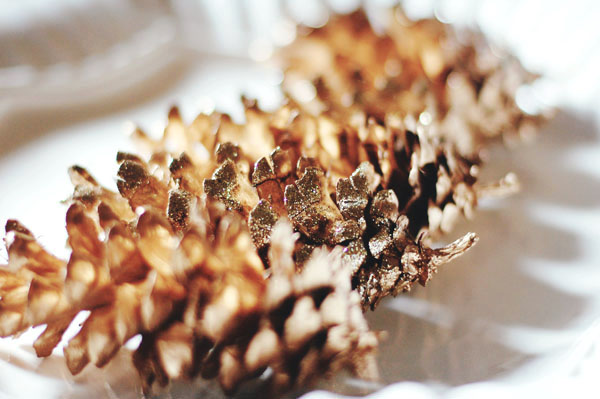 7. ta-daaaaaa! ooooh, pinecones, gold and sparkled, oooh, pinecones, gold and sparkled! [i tell you, it's the next hit holiday jingle!]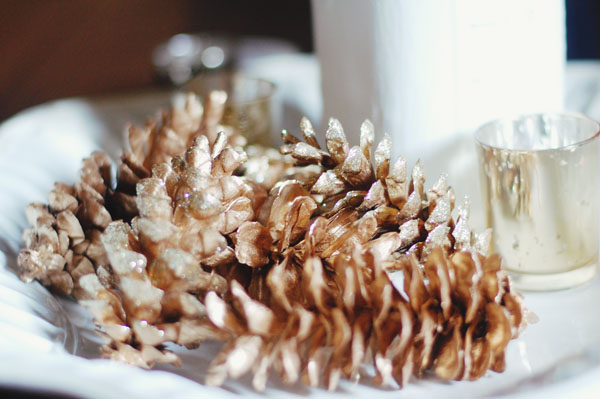 gold and sparkled, just the way to my heart! now to work on my holiday centerpiece. i'm not quite there yet, but it's early, right!i was also thinking that some combination of white and gold on the pinecones would be pretty, too? like white paint with gold glitter or gold paint with white glitter, for a snowy effect, maybe? i don't know. but i like simple, so it's gold on gold for me, and i do believe i'm feeling a round two coming on very soon!