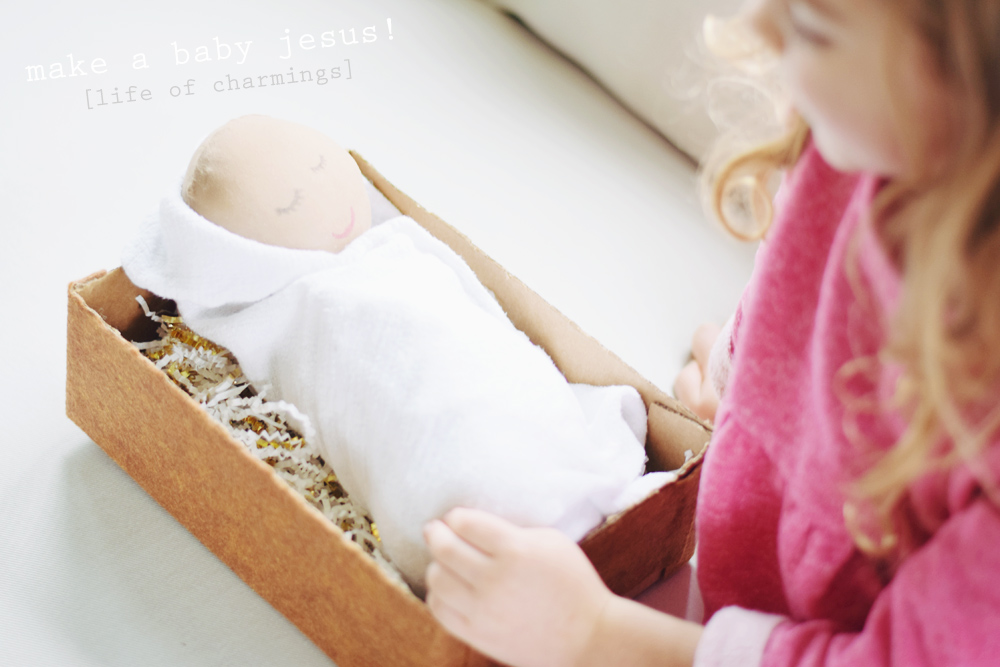 christmas is just days away!!! i still cannot believe it! sooo, here's a fun and easy little craft to do with your little ones while everyone's on christmas break…
make a baby jesus!!
i did this exact craft with my mom when i was little bitty… so, m and i made one together last weekend!! and she is absolutely in love with him. he's a very well cared for mini-messiah over here in our real life nativity… it's just the sweetest thing!!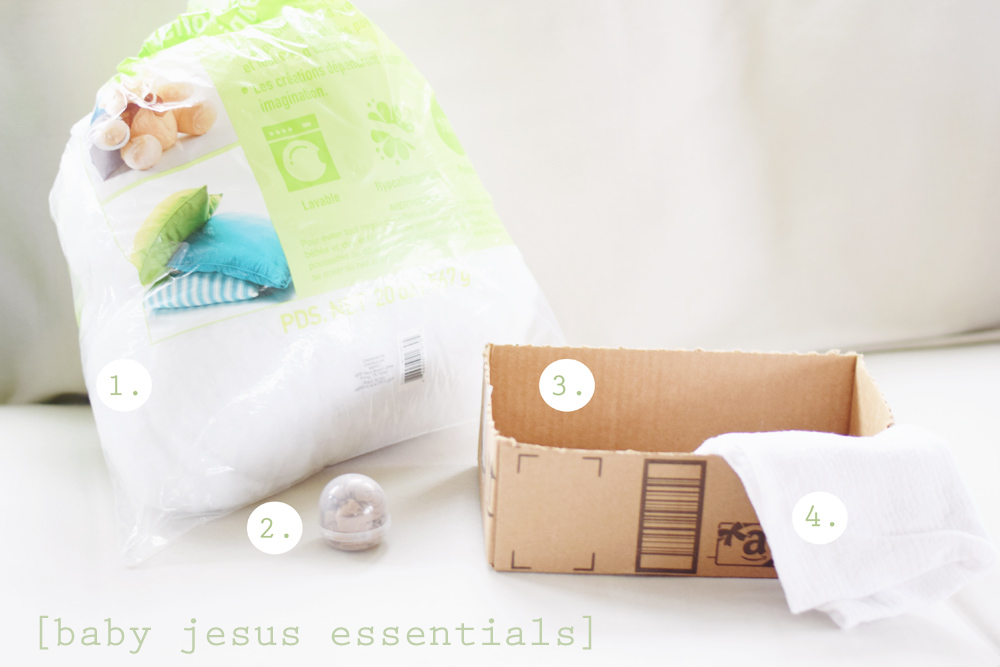 you need:
1. bag of fluffy filler, 2. a set of nude knee highs [or cut the legs off some pantyhose], 3. a small box for a manger, 4. some cloth for a blanket [we used an old cloth diaper/burp cloth]
additional needs!
something to tie off the neck with – string, thread, dental floss
a permanent marker for the face
bonus supplies…
something straw-like to fill the manger
we also used sticky-sided felt we had on hand to cover the words on the box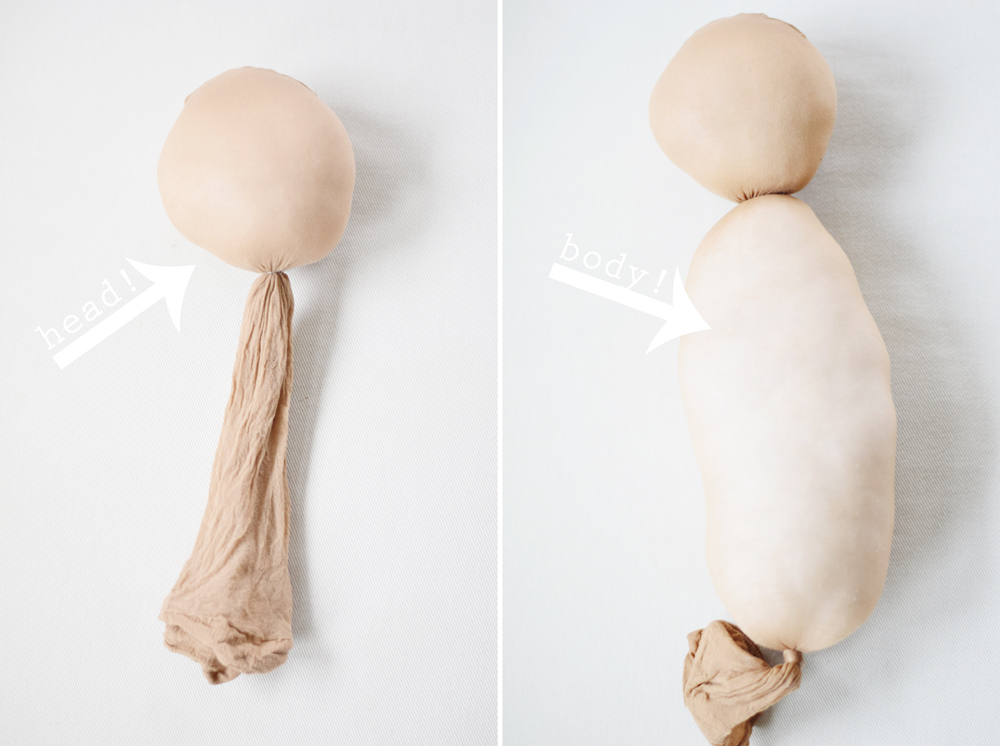 first, layer the knee highs together, one inside the other, so his body isn't too thin. then, stuff baby jesus a little head! and when you feel like his head size is a nice size for his potential body size… tie it off! then stuff his little body to your liking. i just tied a knot in the knee highs at the end of his body.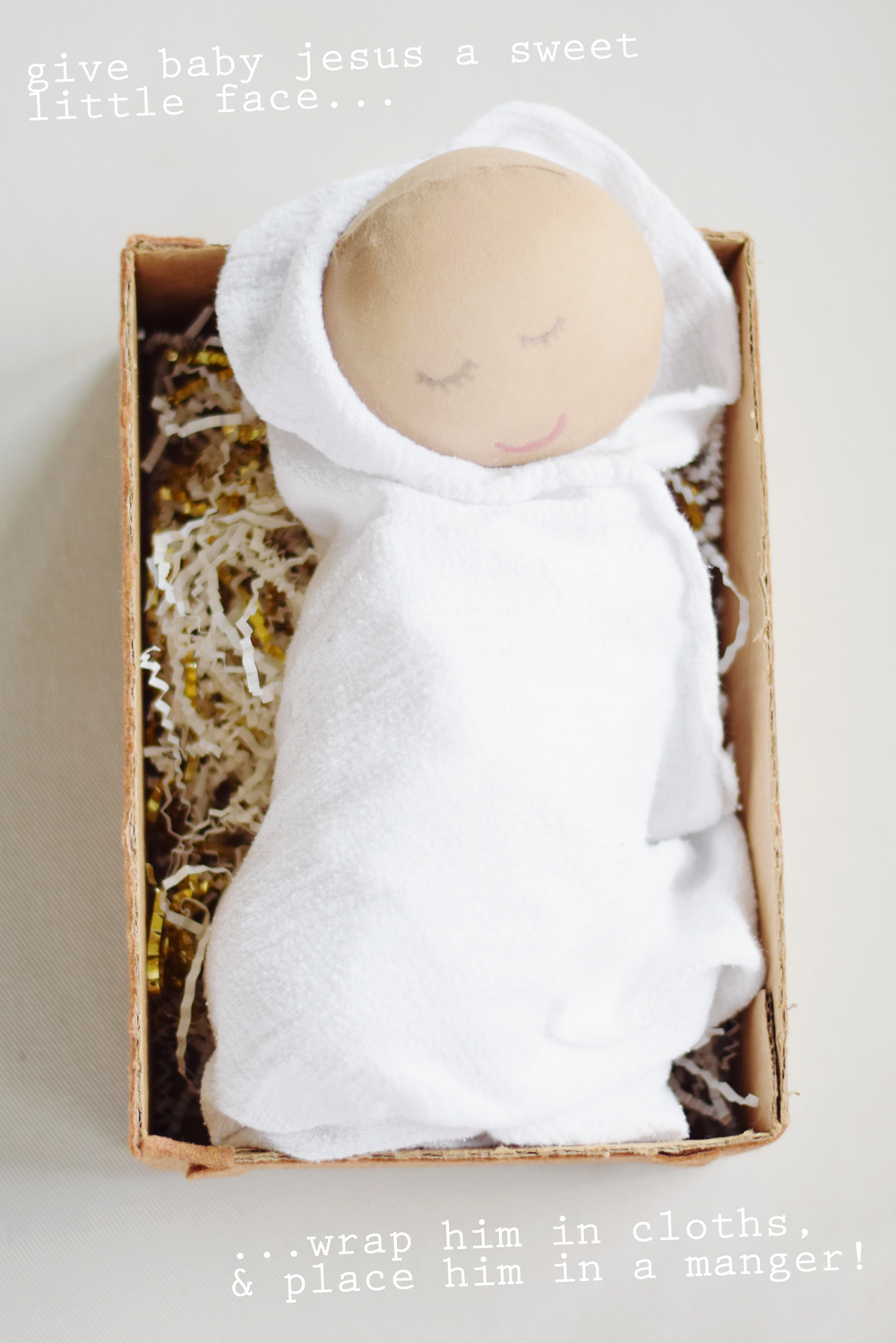 next, i used a black sharpie do draw little sleeping eyes, then a red sharpie do draw a sleepy smile. an old cloth diaper/burp cloth is the perfect size for his swaddle! and then… how could i resist that messy gold and white basket filler stuff for hay!?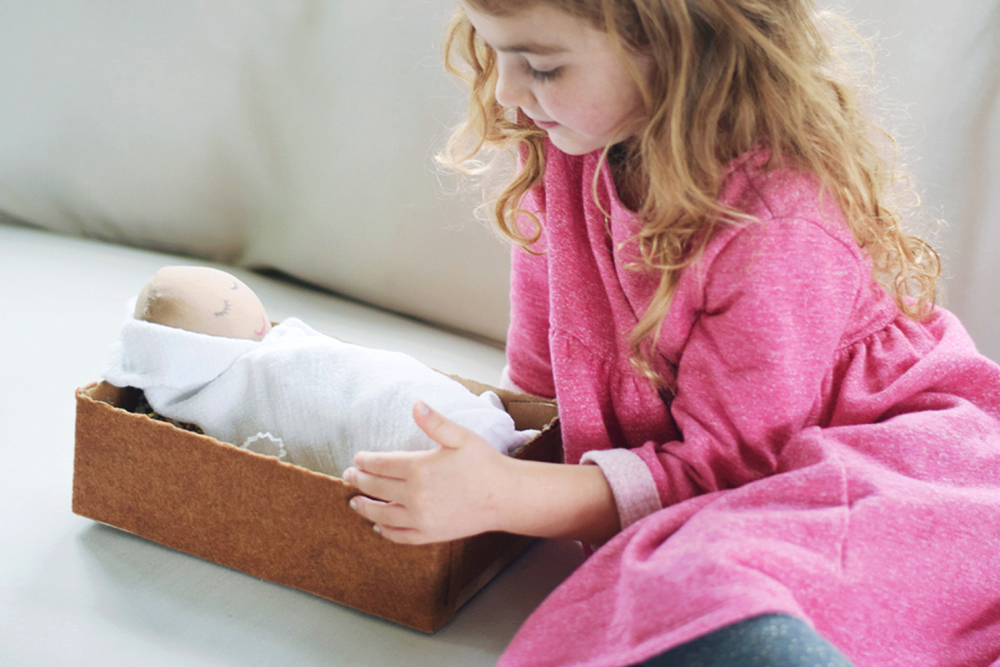 oh, my sweet little mary!! for our manger, i cut the extra flaps off a cardboard box we'd gotten in the mail [amazon, naturally!] and we used some peel-and-stick felt we had on hand to cover up the writing.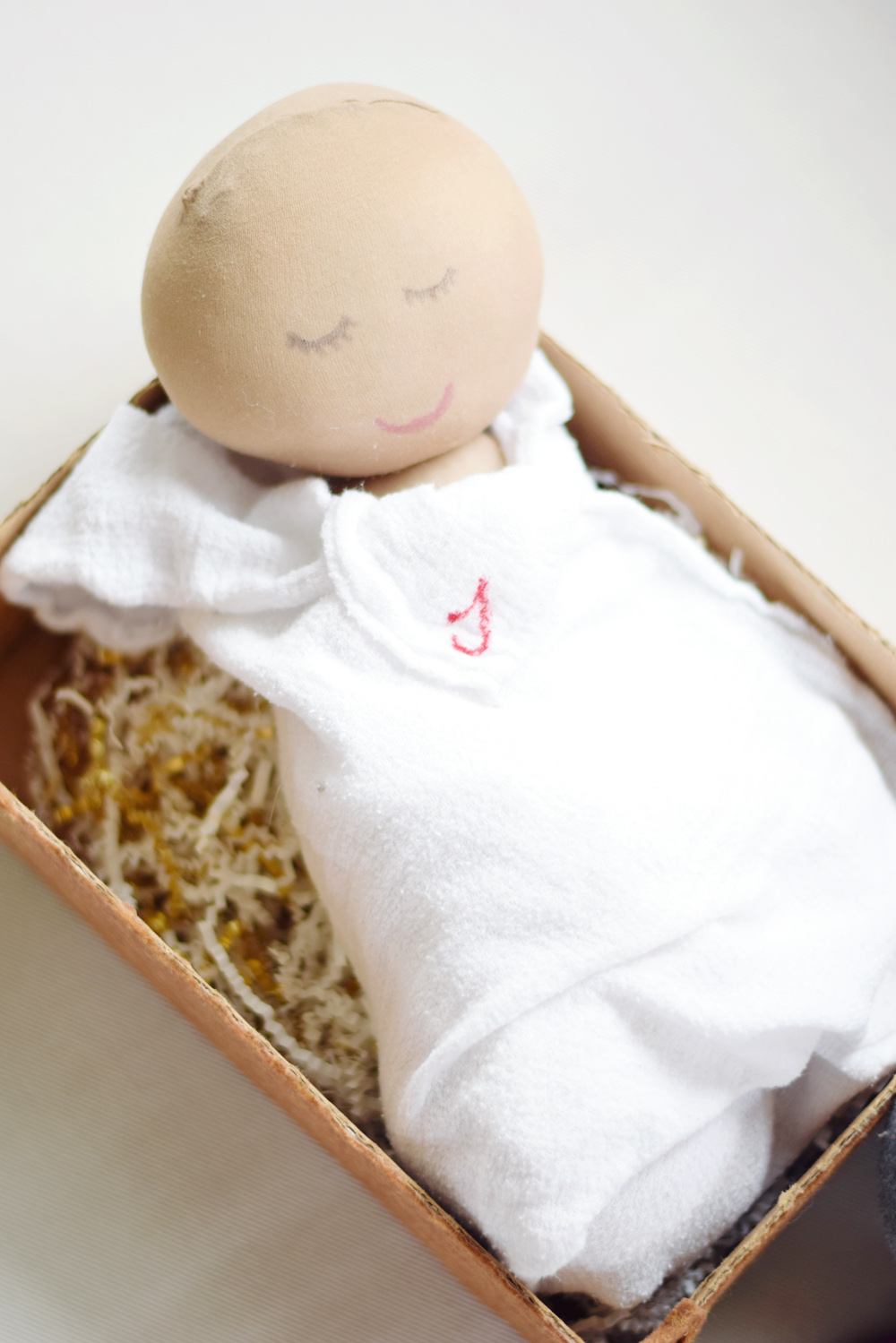 okay, and then i went ahead with a single-monogram on his swaddle. 😉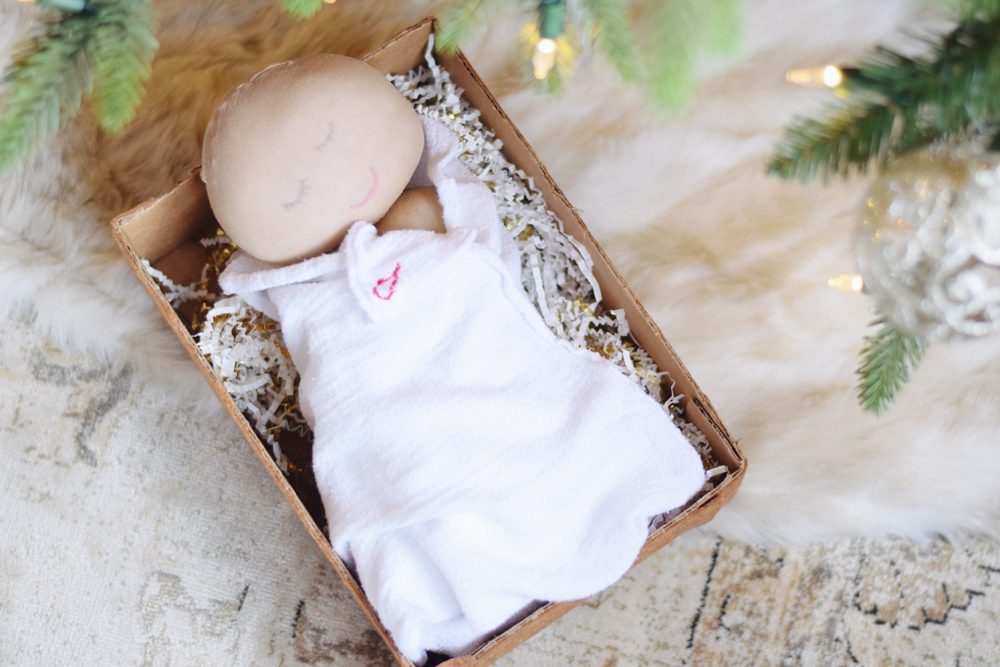 sleep in heavenly peace, little baby jesus!!! doesn't he look cozy?! although, my tiny little mary here just informed me that she had to unwrap him as she must wash his blanket… those newborn days will really wear you out! 🙂
[ps. thanks for the inspiration 25 years ago, mom!! she's always been the queen of crafting!]