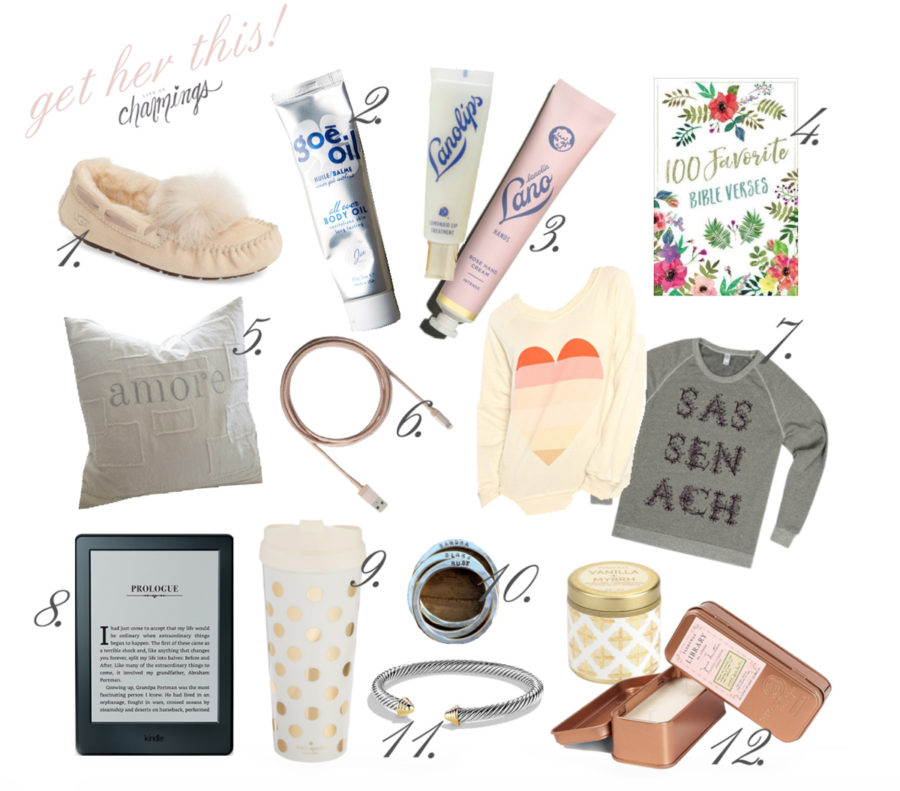 1. favorite slippers – i live in these. every day. as soon as i get home!
2. fanciest body oil – the smell of heaven!! i feel so spoiled when i have this stuff. 🙂
3. lanolin based lip gloss & rose moisturizer – absolute go-to stuff. for real.
4. pretty devotional – i got this for my sis for her birthday. how can you go wrong?!
5. custom throw pillow – these beauts are by the sweetest gal ever on this planet. i have three proudly displayed in my home!
6. 6 foot lightning cable – duh. everyone needs these.
7. comfiest sweatshirt – i don't know how they do it [or why these cost an arm and a leg!] but i live in my wildfox. i find mine on discount, but if you're in the mood to spoil someone… OR!!! if she's as outlander obsessed as i am…
8. kindle – in case she's just watching outlander instead of reading the whole series. 🙂
9. gold dot travel mug – bringing my coffee in my car just absolutely completes my morning. i need to feel fancy while i do it.
10. baby name rings – a little tradition i have with my babes and their names!
11. classic cable bracelet – haven't taken mine off in a decade except for that time i got married and those two times they made me take off my jewelry in the hospital for the whole baby scenario! still as beautiful as ever.
12. best smelling candles – a nash-based company… i sniff all of these every time i'm at the store! i love the vanilla & myrrh, and i also love all the book themes! [they are perfectly stocking-sized, ps!]