valentine's is just around the corner!! i love hearts and pink and it's definitely the cutest holiday there is. 🙂 although, in all honesty, i don't believe that valentine's *gifts* are necessary. i believe in cards and flowers and very simple tokens on valentine's! <3 however! i always believe in a gift from the heart, whenever, whatever that may be!! know what i mean?! so, in the spirit of the season… a few favs from our comfy little zone over here…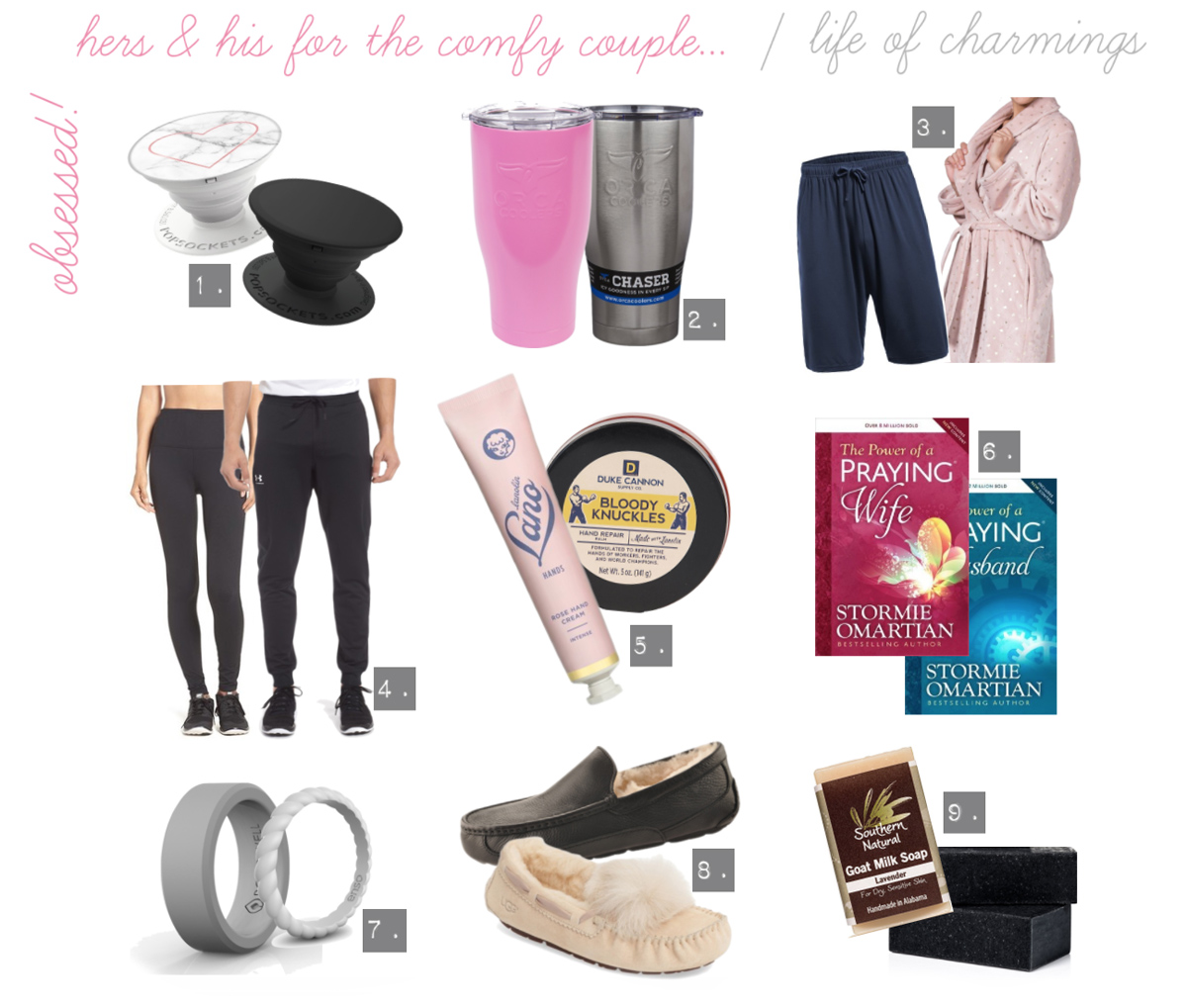 1. pop sockets – hers // his – these have taken some getting used to, but we both have them on our phones! i love mine.
2. stainless tumblers – hers // his – these ole things never fail to keep hots hot and colds cold.
3. sleep wear – hers // his – these sleep shorts steven is obsessed with right now… and i live in my pink bath robe around the house.
4. active/lounge wear – hers // his – always. always. always.
5. lanolin hand creams – hers // his – saves the winter hands from disaster!
6. devotionals – hers // his – we don't have the husband's version, but i have the praying wife book and it's amaze.
7. silicone rings – hers // his – steven's been wearing one of these in lieu of his nice wedding band since christmas and he loves it. i'm more of a shiny, sparkly metal kind of girl, myself! but. you know. they do make cute girl options, too, if you find your precious jewels at risk.
8. house shoes – hers // his – the BEST. we both have these and have worn them constantly for years.
9. goat's milk soap – hers // his – i'm swearing by goat's milk soap lately. i've gotten ours locally, but i'm actually using a charcoal one on my face and i love it!!
xoxoxo!